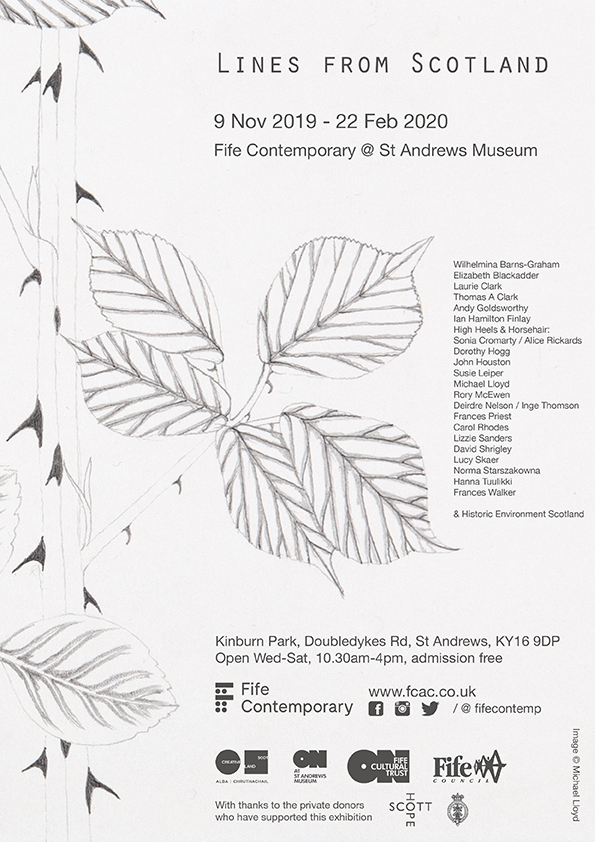 I will be exhibiting a collection of drawings and ceramic samples from Patterns of Flora | Mapping Seven Raasay Habitats in the forthcoming Fife Contemporary exhibition Lines from Scotland.
Curated by Amanda Game, the exhibition explores some of the many, varied ways that Scottish artists work/have worked with drawing and physical acts of mark-making as a way of developing and communicating thoughts and ideas. It is designed to reveal something of the ever-evolving depth, diversity and richness of thinking in the arts in Scotland through linking works that spring from distinct disciplinary traditions, across media. Animation; archaeological records; botanical drawing, landscapes, portraits and designs for objects are just some of the lines that will be included.
It will be shown in Fife at St Andrews Museum (9 Nov 2019-22 Feb 2020) and touring to Dunfermline Carnegie Library & Galleries (7 Mar-10 May) and Gracefield Arts Centre, Dumfries (16 May-25 July).
For full details visit Fife Contemporary
Patterns of Flora | Mapping Seven Raasay Habitats is an Atlas Arts commission for Raasay House, developed in collaboration with Botanist Stephen Bungard in 2015.