I am a pattern obsessive and lover of colour, exploring cultural histories and narratives of ornament through studio ceramics and installations in the built environment. Central to the work is an interest in pattern books as a means of documenting and disseminating languages of ornament, reflecting upon the ever-changing interpretations of ornamental motifs as they move between drawing and material form. 
Over the past twenty years, I have developed an internationally recognised practice, with work represented in private collections across the globe and UK public collections, including The Fitzwilliam Museum, The Victoria & Albert Museum, and The National Museum of Scotland.
Public commissions include The Tiled Corridor for Edinburgh & Lothians Health Foundation and Patterns of Flora for Atlas Arts. My work has featured in biennials and awards including, European Ceramic Context, The Wesley Barrell Craft Award, The British Ceramics Biennale,  Arts & Business Scotland Award, Homo Faber, and The John Smedley Craft Prize. I am a Homo Faber selected maker and a QEST Scholar.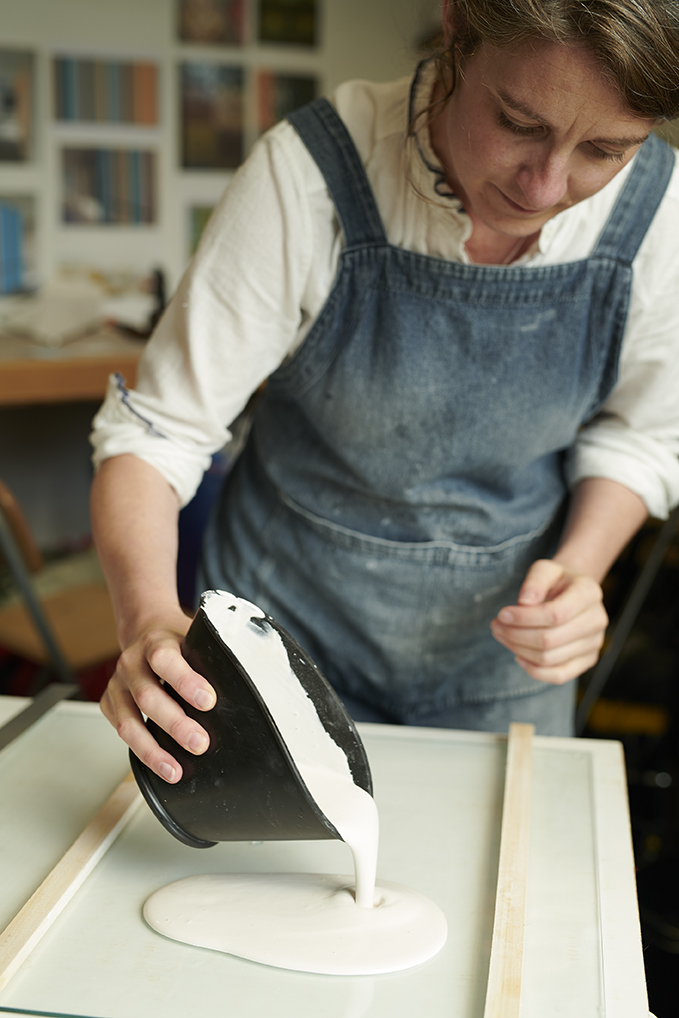 photography by Shannon Tofts
EDUCATION
PG Dip. Ceramics Edinburgh College of Art, June 1999
1st Class BA Hons. Ceramics Edinburgh College of Art, June 1998
Foundation Diploma Dewsbury College, June 95
COLLECTIONS
The National Museums of Scotland Edinburgh, UK 2003 & 2018
The Fitzwilliam Museum Cambridge, UK 2004 & 2018
The Victoria & Albert Museum London, UK 2006
McManus Galleries Dundee, UK 2005
The Shipley Art Gallery Gateshead, UK 2002
The International Museum of Ceramics Faenza, Italy 2001
The International Museum of Contemporary Ceramics Ichon Province, Korea 2001
AWARDS
QEST Johnnie Walker Scholarship June 2020
Arts & Business Awards Commendation February 2016
Creative Scotland Artist Bursary, April 2014
Inches Carr Trust Craft Bursary, May 2012
Scottish Arts Council Creative Development Award, January 2009
Covepark Scottish Crafts Residency, May – September 2008
Scottish Arts Council Professional Development Award, September 2006 & March 2005
Royal Scottish Academy Benno Schotz Award promising young Scottish sculptor, May 2004
Scottish Arts Council,Award for Individual Development, August 2002
Scottish Arts Council Award for Professional Development, February 2001
Andrew Grant Scholarship for Postgraduate Study Edinburgh College of Art, September 1998
SaveSave
SaveSave
SaveSave
SaveSave
SaveSave
SaveSave